This site uses cookies. By continuing to use this site, you are agreeing to our use of cookies.

Learn More.
Prison Update [01/08/2019]
Hey all, just wanted to let you know what's arrived on the server, these are available right now on
play.islesmc.com
so come and check it out!
This week we've added 3 key new features!

Monthly Crates
Now, these are filled with lots of loot so are extremely rare.. therefore we've made them
LEGENDARY
rarity. Currently these are only available on our store, but these will soon be made available by completing in-game objectives throughout the month to achieve one. This will be announced in the upcoming week!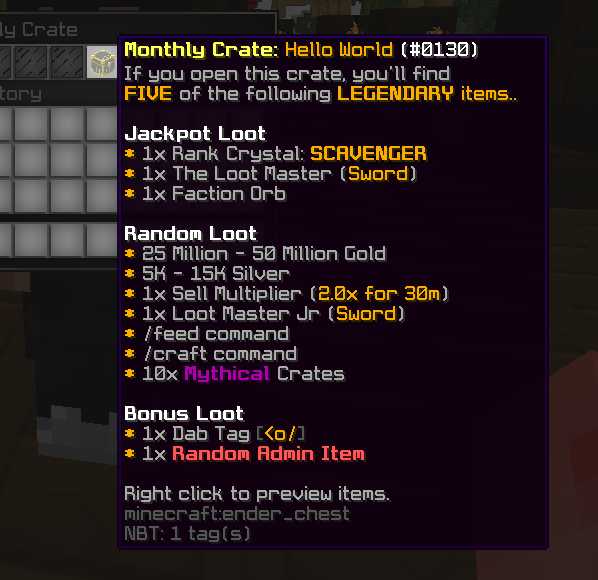 Titles
Along with the monthly crate addition, we've also added titles! You can see your unlocked titles by doing /titles, or visiting the NPC in spawn! You are gonna want to speak to him, cause he'll give you the first title available! "[<3]". These show up at the end of your name in chat so you can show off your titles!


Sell Multipliers
Now, currently these can be found in the monthly crates and that's it, but once in-game challenges are out, we'll be adding them as a sub-reward on the way to earning a monthly crate. The only multiplier available currently is a 2.0x for 30 mins.



QOL / Bug Fixes
- Fixed an issue where island moderators were unable to invite people to the island.
- Fixed a bug where you could not complete the "Island Level 10" quest, even if your island level is high enough.
- On some clients, text would display as white when going onto a second line.
Hello Pirates!
As some of you may have heard in our discord, we have had to push back our release date to Sunday, 21st of July. This will allow us to make sure the server is 100% how we want it to be, fully optimized so the release goes perfect. We thank you for your patience this past week and we are pleased to hear that most of you can't wait until we are back.
This date is set in stone, it will not be changed any further. We would love to see you on release, and we have LOADS of new features being made for release.
Quite a few sneak peeks are being shown on our discord server, might be worth a join if you wanna know what's coming up!
The opening time for the server will be 3PM BST on the Sunday, with the same IP as before (
play.islesmc.com
).
Once again, thanks for your patience and thanks for the amazing support over the past few weeks. We couldn't have done it without your support.
Keep informed in our discord:
https://discord.gg/U2cctwK
Hello Pirates!

First of all, I want to say a big thank you to everyone for your support and suggestions. With your help, we can make IslesMC a fantastic place to play, and we want to help inspire people to enjoy technology!

We have a lot planned, so we thought, let's extend our beta so we will have a bit more time to get ALL the features we want ready for release.

We've set up a timescale of events below, this will guide you on what will be happening with the server.

Monday 17th of June - We opened Beta for players to join!

Saturday 23rd of June - We announced in Discord we would extend the beta for another week!

Sunday 30th of June - Expected Beta end date, the server will be whitelisted and will be not joinable for 2 weeks.

Saturday 13th of July - The big day, this is the day we are expecting to be ready and hoping to show the world what all our hard effort has created. We really hope you will join us on this day, and take a look at our amazing features, as it will be a lot different from Beta!

There is currently a Warfare scheduled for 8PM BST, but we will update if this changes.

Once again, thank you for your amazing support, both showing yourself in-game and getting involved and also the amazing amount of donations we have received, both will help us make our launch amazing for everyone. We hope to see you online!

Don't forget, the IP is play.islesmc.com!
IslesMC is coming to life, it's almost at the release..


Hello everyone, just to let everyone know that IslesMC will be holding a public beta
for players to try out features and give gameplay feedback to ensure the full release
will be fantastic!

We hope you will be able to join us for this exciting time and will use the forums to alert
us to any bugs / gameplay changes that you think need fixing!

We are hoping to run the Beta between 17th of June - 23rd of June.

More news will be available closer to the time.​